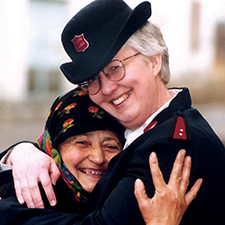 Hours of Operation: Monday-Thursday 10:00am-4:00pm (Closed 1:00pm-2:00pm for lunch); Friday 10:00am-1:00pm
The mission of The Salvation Army Family Services is to fulfill the social, health, spiritual, and recreational needs of low-income individuals and families in the Longview community. Through our social welfare program, we provide assistance and support to address a wide variety of personal and social difficulties by helping our clients access necessary resources. We strive to preserve the dignity and self-respect of the individuals and families seeking assistance, while encouraging them to become self-sufficient. For information on specific programs and locations, contact The Salvation Army in Longview at (360) 423-3992.
---
Food Bank
According to Feeding America, more than 48.8 million people face the threat of hunger daily in the United States. To help mitigate that threat, The Salvation Army serves 60 million meals to anyone in need through its many soup kitchens, sit-down meal programs, food pantries, mobile meals and community gardens. These nutritional meals assist homeless people of all ages, as well as individuals and families in need of some extra assistance.
Food Bank Hours of Operation: Mondays, Wednesdays & Thursdays 2:00pm-4:00pm
---
Daily Meal
The Salvation Army Provides a hot meal daily. Every one is welcome between 11:45 and 12:45! For more information, contact The Salvation Army in Longview at (360) 423-3992.
---
Housing Assistance
The Salvation Army is focused on preventing homelessness in communities they serve. Housing challenges are not predictable or limited to a certain type of person, and it could happen to anyone. Some causes may be unemployment or a medical emergency. We also try to help those who are currently homeless get back on their feet. The Salvation Army works every day to assist individuals, seniors, families with children and those who are at risk of losing their permanent housing or who have currently become homeless or by providing for their basic needs and helping clients achieve long-term stability through case management and other services.
Group homes, emergency shelters, and transitional living centers provide housing, food, and overnight lodging for varying amounts of time to those in need. In addition, we provide educational, counseling and vocational services to homeless, destitute individuals and families, and youth where family care is undesirable or unavailable. We also assist families with temporary needs. Our family service programs help families and needy individuals with emergency food, housing, and utility assistance.
Our programs and services vary with local needs and available funds. For information on specific programs and locations, contact The Salvation Army in Longview at (360) 423-3992.
---
Emergency Disaster Services (EDS)
While every disaster is unique and creates its own special needs, the core of The Salvation Army's disaster program consists of several basic services. And while these services address many of the typical needs of a disaster survivor, Salvation Army disaster relief is also flexible. Our services are adapted to the specific needs of individuals and communities and scalable according to the magnitude of the disaster. When tragedy strikes in your community, remember that The Salvation Army is on the scene. Volunteers are needed for behind-the-scenes and frontline work. Donations enable Salvation Army personnel to assist hundreds of thousands of disaster survivors. Credit card donations may be made by calling 1-800-SAL-ARMY or online by clicking HERE.
For more information, contact your nearest Salvation Army. A complete listing of The Salvation Army's locations throughout Washington state, northern Idaho and western Montana, can be found by clicking HERE. We welcome your involvement.